03/10/2011 § 23 Comments
As my fellow Hacker Zack Frazier pointed out in his most recent entry, many library school students experience considerable anxiety about their job prospects upon graduation. We all know (maybe too well) how tight the job market in North America is. That's why, whenever a classmate expresses an interest in school librarianship or working abroad, I ask if they have considered international schools.
I have to preface this primer by admitting that I have never worked as a librarian at an international school. However, I did work from July 2008 until June 2011 as an English Literature teacher at Gyeonggi Suwon International School in Suwon, South Korea. So I can comment on the hiring process, work environment, salary, and benefits, which are similar for both positions. It continues to amaze me that the international school circuit, which provides incredible employment opportunities across the world, continues to be such a well-kept secret. Nobody ever told me about it; in fact I stumbled across it quite by accident. So I'd like to share information with you about how to get in the loop.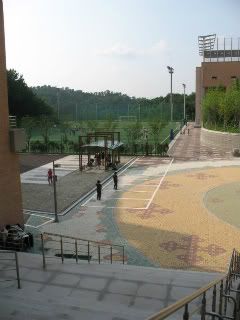 The campus of Gyeonggi Suwon International School, where I worked from 2008-2011