17/09/2012 § 12 Comments
Being more than a month into my second year at Pratt SILS, I'm trying not to drown in the load of reading that comes with the classes. A majority of my readings are from scholarly journals, and I'd like to give a run down of some of the journals that are prevalent in my library school syllabi, but most importantly make note of the journals that are Open Access and FREE for you to browse and access.  If you are a current student in library school, I urge you to take advantage of the databases of your school library. Aside from various blogs that exist on the web, this is where you can find the latest news  in the profession that's sure to keep you aware and prepared for future job interviews. They are:
18/05/2012 § 32 Comments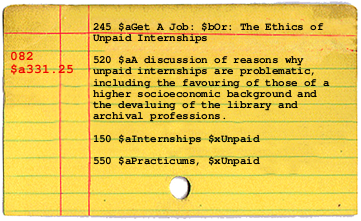 Make your own card catalogues at blyberg.net
Well, it's that time of year again…classes have wound down, we have (mostly) caught up on sleep after the bleary, stress-filled days of final exams and projects. And now, as we step blinking into the sunlight for the first time in months, our minds turn to the chirping of birds, the roar of road construction…and summer work.
But just as exams and projects are stressful, finding a way to occupy your summer brings its own concerns.
Many library school students will spend their summers doing internships, or as they are more commonly known in Canada, practicums. The School of Information Studies at McGill University, where I attend library school, offers such a summer practicum program. Participants spend ten hours a week during the summer doing unpaid work at a variety of institutions, including public libraries, university libraries, school libraries, hospitals, museums, corporations, and archives. When it was first announced, I was extremely interested in participating, but I soon began to have reservations. In fact, I find the whole idea of practicums/internships extremely problematic.
30/03/2012 § 48 Comments
Over the last couple of weeks, we have brought you a series of posts about preparing yourself for the job search. Ashley gave you general advice she gleaned from an interview with a hiring manager. Rose brought you advice on filling out your job application and creating a cover letter. Then Laura talked about tips for how to dress when you go to an interview or job fair. Today's post talks about a tool you can add to your job search toolkit to help you stand out: the eportfolio.