05/12/2011 § 16 Comments
While graduate students in any field are prime candidates for burnout, it is my belief that library students face special challenges where work/life balance is concerned. We must pay tuition but we are rarely offered the teaching assistantships or other forms of financial aid that our counterparts in other fields would receive. In addition to our schoolwork, we must obtain as much library experience as possible prior to graduation so that we can maximize our job prospects. Even those of us who are fortunate enough to land paying part-time library work find it necessary to broaden our CVs through volunteer positions or unpaid internships – often more than one! In order sell ourselves to potential employers, we participate in conferences, blog, tweet, network, maintain digital portfolios, and try to find time for a beer once in a while. Such overextension can quickly lead to exhaustion and burnout…but in this economic climate where jobs are scarce, we're all anxious to set ourselves apart from the hundreds of other candidates out there. So, how can we be successful librarians and lead balanced lives? « Read the rest of this entry »
03/10/2011 § 23 Comments
As my fellow Hacker Zack Frazier pointed out in his most recent entry, many library school students experience considerable anxiety about their job prospects upon graduation. We all know (maybe too well) how tight the job market in North America is. That's why, whenever a classmate expresses an interest in school librarianship or working abroad, I ask if they have considered international schools.
I have to preface this primer by admitting that I have never worked as a librarian at an international school. However, I did work from July 2008 until June 2011 as an English Literature teacher at Gyeonggi Suwon International School in Suwon, South Korea. So I can comment on the hiring process, work environment, salary, and benefits, which are similar for both positions. It continues to amaze me that the international school circuit, which provides incredible employment opportunities across the world, continues to be such a well-kept secret. Nobody ever told me about it; in fact I stumbled across it quite by accident. So I'd like to share information with you about how to get in the loop.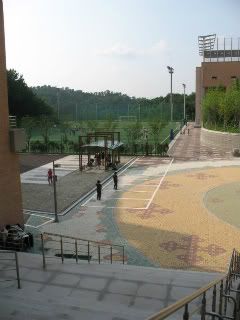 The campus of Gyeonggi Suwon International School, where I worked from 2008-2011
14/09/2011 § 11 Comments

The School of Information Studies at McGill University
Hello everyone! I'm excited to write my first post as one of the newest contributing members of Hack Library School. My name is Laura Sanders and on September 1st I began my MLIS at McGill University's School of Information Studies in Montreal, Canada. During my first week I learned firsthand what "information overload" really means, but now things are settling into a routine. I must say that everyone here, from faculty to staff to fellow students, really go out of their way to help incoming students feel comfortable and supported.
The program kicked off with a two day orientation on August 30th and 31st with coffee and danishes. On Day One we were introduced to the School of Information Studies' professors, who gave us an overview of the courses they teach and their current research. Afterward, we learned how we can get involved with various organizations, such as the McGill Student Chapter of the CLA (Canadian Library Association), Librarians Without Borders, and the Association of Canadian Archivists to name just a few. On Day Two, we were shown how to use the McGill Libraries' catalogues and given a general overview of IT at McGill. We then met in small groups with our advisors. The orientation finished off with a barbecue where we had the chance to chat with our new professors and classmates. In addition to the SIS orientation, McGill also hosted the "Discover McGill Graduate Orientation and Open House", open to incoming graduate students in all programs. There I found out about campus clubs and activities, inexpensive leisure courses offered in French, Spanish, yoga, and dancing, and various career planning resources. By the end of these orientations, I felt pretty well prepared to jump into student life here.
Students enrolled in the MLIS at the School of Information Studies are required to enrol in one of three specializations: Archival Studies, Knowledge Management, and Librarianship. Of these, I chose to go into Librarianship because I am hoping to become a secondary school librarian. Although you can only choose one specialization, you may take courses in others as your electives. There are also several options for independent study. « Read the rest of this entry »